Before the birth
Following your consultation, your doctor will advise if it is necessary to deliver your baby straight away or if you will have the opportunity to go home for a period of time before returning to be admitted to hospital.
If you met your doctor in their offices, that is, not in a hospital, they may refer you to a sonographer for an ultrasound.
Your doctor or midwife will talk to you about the best and safest way to deliver your baby by vaginal birth or caesarean section at your consultation or once they have all conclusive test results.
"The minute the screen turned on in front of us we knew, something was different and then there it was she pulled away and put her hand on mine and said "I'm sorry, there's no fetal heart" … Nothing, nothing was ok, my whole world just came crashing down in a second and all I could say was its ok!? ….

We then had to see our doctor who gave us the options on what we needed to do next. I still had to deliver this baby somehow. We decided her birth would be just like her brothers a c-section … We got booked in for first thing the next morning, I remember walking out of the Drs office covering my belly with my cardigan I was hiding my baby …"



Name withheld, Mother to Addison born 33 weeks. Read her story here.

After the birth
When your baby is born, the midwife will ask if you would like to hold your baby and wrap him or her up in a blanket.  The choice is yours and you can make the decision at any time after the birth.
After the birth, there will be an opportunity to spend time with your baby.  In these precious moments with your baby, you will be able to cuddle them, give them a bath, dress them, take photos with and of them.  You will be offered to stay in hospital, and you can invite family or friends to meet your baby.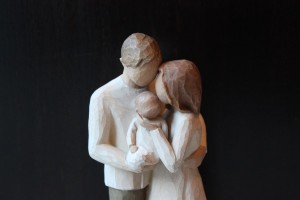 "…Hours later, we greeted our little angel baby. He was perfect. He was still, but he was perfect, so I got to see my angel baby's face, touch his lips, feel his body on mine, and hold his little fingers in my hand."

– Name withheld, Mother of Hunter James Cullen. Read her story here. 
Tests and support
There a number of tests that are recommended to help establish the cause of death.  These include blood tests, examination of the placenta, and tissues sent for chromosomal analysis.  You will also be offered the opportunity to conduct an autopsy.
It is incredibly heart-breaking but, in some cases, tests can be inconclusive and there is nothing that could have been done to prevent the stillbirth.
During and following the birth, your doctor or midwife will be able to administer pain relief and monitor your postnatal care.
Your hospital may offer you the opportunity to meet with a social worker who will help and guide you during this time.  If the hospital does not have access to a social worker, they may refer you to a counsellor or other support partners to provide you and your family with support.
At any point from finding from out and when you are ready, you may consider advising family or friends , organising care for your children or advising your workplace.